Can You Play The Clank! Board Game Solo?
We are an affiliate. We really hope you enjoy the products we recommend! When you click on links we may receive a commission or other compensation at no cost to you. Thank you for coming to our site and for any links you use. We really appreciate it.
Clank! is a fantastic deck building adventure game released by Renegade Game Studios. In the game you creep around an angry dragon's lair stealing precious artifacts. If you stumble then you will have to bear the wrath of the Dragon! So beware.
It is a 2-4 player game but can you play the Clank! board game solo? Yes you can and there is a companion app which enables you to do this. And it is real fun too. Read on to find out how to play.
This article will lead you through the download and initial setup of the Clank! board game for solo play.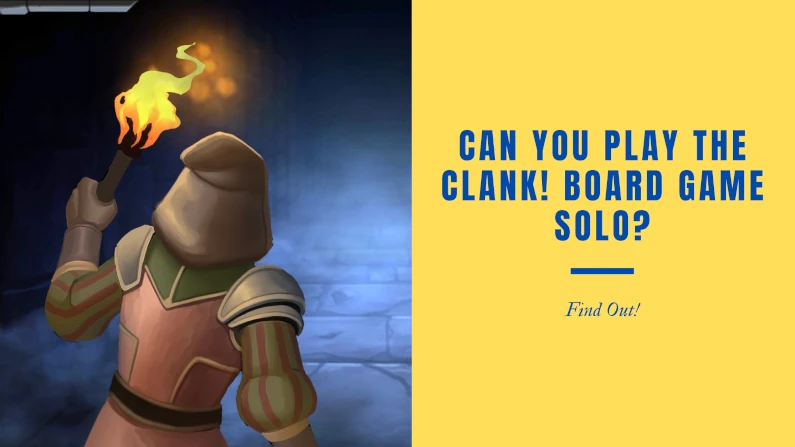 Table of Contents
How do you play Clank! solo?
Renegade Game Studios released a companion app that will work alongside multiplayer games. It also has a solo mode that will enable you to play alone.
You can download the App from either the Apple Store or Google Play store by clicking on the links below:
Accessing the Clank! solo mode
The app has many Renegade Games including Clank! and Clank! in space. Choose Clank! and then you will need to select the expansion to play.
This article is about the base game. So tapping on Clank! a deck-building adventure will give you a further option of Multiplayer or Solo. Tap solo.
At this point you will be at a point where you can set up the game board. Lets look at how to do that next.
Game setup
Set the game board up the same as if you were playing a multiplayer game. Except leave the minor secrets, artifacts and Dragon. The app will lead you through what to do with those items.
Once you have setup the game board you can go back to the app and follow the instructions.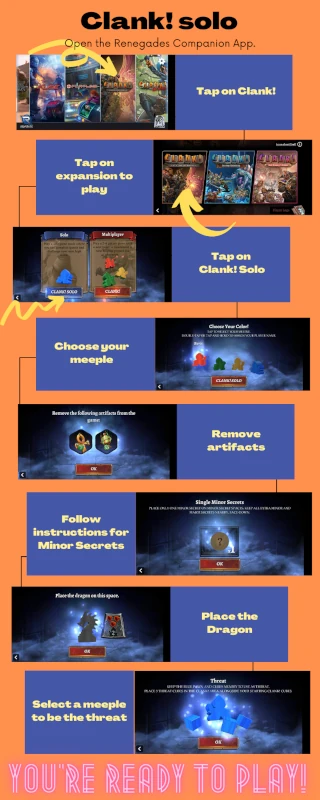 You can now choose your Meeple and name it by following the instructions on screen. Once done you can tap on Clank! Solo.
The app will now lead you through the setup as follows:
Remove two artifacts as shown in the app
Only put out one minor secret per location
Place the Dragon on the indicated space
Keep a colored meeple and its clank close by to use as a threat
Place an amount of the threat color clank alongside your starting clank
Finally, the app will show you some instructions on how to use it to complete quests and move on to the next turn.
You are ready to play your first solo game. Enjoy!
Is Clank! worth buying to play solo?
Whilst Clank! is playable using the companion app and is very enjoyable. I would not recommend you buy this game for that purpose.
Renegade Games Studios have designed it as a 2-4 player game and this is where the most fun is to be had. They have provided the solo mode as a bonus and that is exactly what it is.
If you already have the game then you can enjoy playing it solo when there is no one else around.
If you are looking for a solo deck building game then Star Realms may be a good option as it is cheaper and better suited.
If you are interested in more games you can play solo. Then my article, Can you play board games by yourself?, lists 18 of the best solo games you can buy and some I recommend.
Conclusion
Whilst Clank is a really fun multiplayer game it is not worth buying it as a solo game. You will have the most fun in multiplayer games. If you have bought the game to play with friends and family then you will already know how good this game is.
In which case you need to play this game solo. Download the app and give it a go. You will have a bunch of fun.