Can You Play Board Games By Yourself? The Answer May Surprise You!
We are an affiliate. We really hope you enjoy the products we recommend! When you click on links we may receive a commission or other compensation at no cost to you. Thank you for coming to our site and for any links you use. We really appreciate it.
When I was a kid you played board games with others and the thought of playing on you own was unheard of. If you couldn't find anyone to play with then you were reduced to playing card games like solitaire.
Well, you will be surprised to find out that things have come a long way since I was a kid.
You can play board games by yourself and there are plenty of great games to choose from. Many of the games you can play with friends and family are also designed to play solo.
Additionally it is very popular for people to play regular board games solo. These games are not designed for solo play and so the solo player will set up several players. They will then rotate round each player taking their turn.
Let's take a look at how you can play board games by yourself.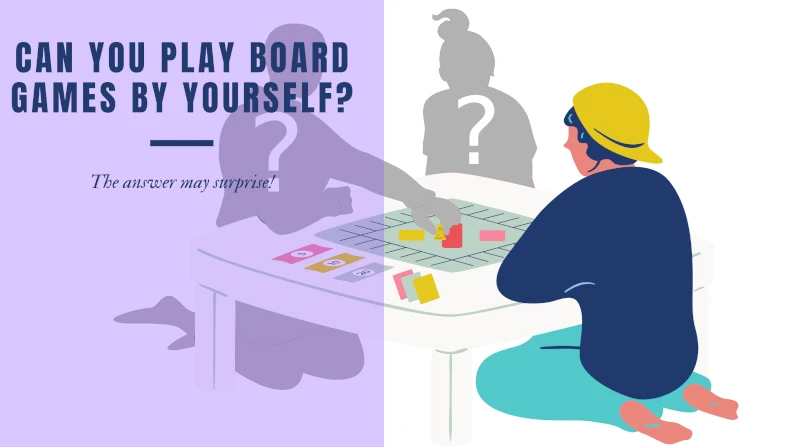 Table of Contents
Is it weird to play board games alone?
You may be wondering if it is weird to play board games alone.
Whilst board games are traditionally considered to be played with many people. This is no longer true and in actual fact there are many games designed to be playable solo. So it is really not weird at all and actually very rewarding and enjoyable.
There are plenty of board games that you normally play with friends and can play solo if you want. My article 20 Best Solo Board Games give you 20 of the best games to play solo.
Games such as Terraforming Mars or Wingspan are both amazing examples of games you can play solo. They are great to while away a few hours if you can't find anyone else to play.
You would not be alone in enjoying playing board games alone either. There is a 1 Player Guild on Board Game Geeks that, at the time of writing this article, has over 16 thousand members. All taking the opportunity to play a board game solo from time to time.
So, you can see that playing board games on your own is not weird at all. You won't have all the fun of social interaction. Like reading a good book, it can be as enjoyable playing alone as with your friends.
What types of solo board games are there?
The good news is that there is pretty much any genre of game that you can think of to play solo. Take your pick from board games like the epic Gloomhaven which is a tactical RPG dungeon crawler.
Or the awesomely beautiful and completely different game of Wingspan. Wingspan is a card driven engine building game where you must attract birds to your reserve.
If they do not seem interesting then Spirit Island may be the game for you. In Spirit Island you must defend your island against settlers. It's you or them in this game so make sure it is you, luckily you have a selection of spirits to choose from to help you.
Maybe you want to pretend you are Elon Musk for a few hours and terraform Mars? Then Terraforming Mars is the game for you.
Gloomhaven tops the Board Game Geek charts and has done for quite a while. Followed by Terraforming Mars at number 4 and Spirit Island at number 11. With Wingspan at 22 you can see that all these games are very popular. They are also playable solo.
What is a good game to play alone?
Now we have established that it is normal to play games solo and that there are many great games you can play. At the end of this article I have create a table of 18 superb board games that are soloable.
First, let's have a look at a few of the best games and ones I recommend for solo play. I have chosen a good mix of games. So if dungeon crawling, dragon bashing is not your thing there will be something that you will want to play.
Terraforming Mars
Making it habitable for human occupation. In the multiplayer game you compete against the other player corporations.
As Terraforming Mars will take hundreds of years the game turn works for a full generation. In the solo player board game you have exactly 14 generations (or turns). Within these you must make Mars suitable for humans.
By maxing out the oxygen, temperature and laying all the ocean tiles you will win the game. Do this by managing your resources and purchasing projects. The projects will move you towards victory.
If you succeed then you add up your score. This is a great opportunity for keeping a game score journal. You can then compete against yourself.
Wingspan
Wingspan is an engine building game. It has some amazingly beautiful cards one for each type of bird. There are 170 bird cards each one describing a birds statistics and where it likes to live.
You have three types of habitat in your reserve: Forest, Grassland, and Wetland. Each of these habitats gives you a resource when you play an action on them. Forest will give you food, Grassland gives you eggs, and Wetland gives you more birds.
The solo version of the game uses a thing called an Automa. This is derived from the italian meaning Automaton. The Automa acts as another player to play against and works superbly well. It is tricky to beat too so there is a challenge.
Read my article on How To Play Wingspan Solo for more detailed information about the Automa and how to play.
If you are a bit of an animal lover then this is a great option. It will be perfect when you want to create something rather than destroy it.
Arkham Horror: The Card Game
Arkham Horror: The Card Game is a card game version from Fantasy Flight. The Ancient Ones are plotting to break into our world.
There are unspeakable horrors, strange happenings and dark shadows around Arkham, Massachusetts. As an investigator it is your job to solve the mysteries and stop them.
This amazing story driven puzzle card game will hurl you into a world of sinister choices and dark foes.
Arkham Horror: The Card Game is a living card game. The core starter set has all the card you need for 1-2 players. It also comes with one Campaign with three parts for you to enjoy. Each part will lead into the next and the outcomes will change the following parts too.
You will be able to play this game many times. The real pleasure is in not knowing though and discovering all the clues. After a while you'll begin to know what is coming.
Luckily, Fantasy Flight also produce many add ons. These include more investigators and campaigns for you to buy and play. This enable you to expand the game to 1-4 players and also solve further mysteries extending the fun.
There are two versions of the base game. The original Arkham Horror: The Card Game is perfect to get you into this style and enable 1-2 players. Recently Fantasy Flight have brought out Arkham Horror: The Card Game Revised Core Set. This new version has a few improvements and also enough cards for 4 players.
This is a superb single player game that will keep you engaged throughout the impending doom. Will you solve the mysteries and prevent the end of the world or will the Ancient One have their way? It'll be up to you.
Calico
Calico is about creating the perfect patchwork quilt. Anyone with a cat will know that a comfy quilt will be occupied pretty quick. This game is a strategic puzzle where you need to create patterns and colors to gain points. If you create the patterns or shapes that are appealing to the cats then you get even more points.
Calico has a scenario mode of play and this is what you use to play solo. The scenarios provide the win conditions for you to achieve. These vary and can be to get points, gain a type of button, or even to gain 1 of each cat.
This is a really good aspect of the solo game as it is not only about getting a score. There are other objectives too, so you need to think carefully as you play through and add a bit more strategy.
The scenario also gives you the setup conditions, like which cats to use along with design goals.
You start with a quilt board from which you need to fill with patchwork quilted tiles in order to make your quilt. You also add your design goals to the board which will give you more ways to earn points.
The game turn consists of you picking a tile from your hand of two tiles and place it on the quilt board. As you make patterns you gain points.
You then pick one tile from three that are sitting on the table to replace the one played.
From the remaining two tiles on the table you discard the furthest tile away from the bag. Move the remaining tile to the furthest point away from the bag and then add two new tiles from the bag.
Calico is easy to learn. It has some strategy involved as you attempt to solve the puzzle of creating the right patterns. You also need to decide which tile to play, how to play it, and which one to pick up.
This is a really enjoyable solo game with lots of replayability.
Onirim
It is a very simple game where you shuffle the cards and put them in a draw pile. You then draw 5 cards for your hand.
Your aim is now to lay down three cards of the same colour to then unlock a door. Each card in your hand will have a symbol and you cannot lay two cards down of the same symbol e.g. two sun cards.
If you cannot lay a card then you are free to discard cards. Once you have played or discarded a card you replace it with another card drawn from the deck.
There is a little more to this game and it is a simple and fun solitaire style game. If you open all 8 doors you win. If the there are no more cards left in the draw pile and you need to pick up a card the you lose.
Simple and portable game that is solo playable by the whole family. This is an exceptionally chilled an enjoyable game to play when you want to have fun but not tax your brain too much.
Gloomhaven
The game campaign is huge so you won't be completing it in one session. The campaign consists of scenarios that last for around 1-2 hours. I have a full review in my article Gloomhaven Board Game Review | Everything you need to know that gives you more detail about the game.
The story goes that you have arrived in Gloomhaven looking to fulfil your personal goals. Evil looms over Gloomhaven and you take it upon yourself to combat the present evil.
Each scenario moves you through the campaign and reveals or unlocks more of the game. This game is for the hard core board gamer as it is complex to learn and will take investment in time to play.
That said, it is one of the most rewarding and engrossing games you can buy that will last years. It seems expensive to buy but you get a lot for your buck. Including 18 miniature characters, 240 monsters, 30 double sided map tiles, and 155 overlay tiles. And that list hasn't even touched the surface of all the components included.
Even though this is the top rated board game on Board Game Geeks I have left it till last. It is not for the faint hearted and the other games may be far more enjoyable for the more casual player.
Yet, if you are a veteran board gamer or want to become one then you must check this game out. Your reward for the investment of time and money will be an epic fantasy adventure. Not only can you solo but share with 1-3 of your friends.
If Gloomhaven is a little steep for your wallet then check out Gloomhaven: Jaws of the Lion. You can play it as a standalone and if you love it you can buy Gloomhaven and use it as an expansion to the main board game.
Conclusion
I hope you enjoyed this article and have been inspired to try some of the great solo board games on offer. It is quite normal to play and enjoy playing baord games on your own.
I often enjoy playing Terraforming Mars when I get the chance and enjoy the challenge of trying to terraform the planet before my 14th generation.
You can see that there are also many games out there for you to try. I have recommended six games and listed a further 18 games below. That is by no means exhaustive either. So your options to play solo are extensive.
If you are interested in any of the games then check the prices out. There are some really reasonably priced games too like Arkham Horror The Card Game, Calico, or even Gloomhaven: Jaws of the Lion.
Whatever your interest there is something out there for you to play solo.
18 board games you can play on your own