Marvel Champions: The Card Game Review
We are an affiliate. We really hope you enjoy the products we recommend! When you click on links we may receive a commission or other compensation at no cost to you. Thank you for coming to our site and for any links you use. We really appreciate it.
If you love the Marvel MCU and all the great superheroes and villains. Then quite possibly you will love Marvel Champions: The Card Game.
In this article we review the card game. Explain what it is about and answer some of your questions. The game was released in 2019 by Fantasy Flight Games. It is for 1-4 players from age 14 and up.
The game is sold as a living card game (LCG) which means that the game is getting constant expansions to its world. When you buy the base game you get 5 superheroes and 3 villains. Since its launch there have been numerous releases of more villains for you to fight and defeat along with more heroes to defeat them with.
Let's take a look at what the game is all about.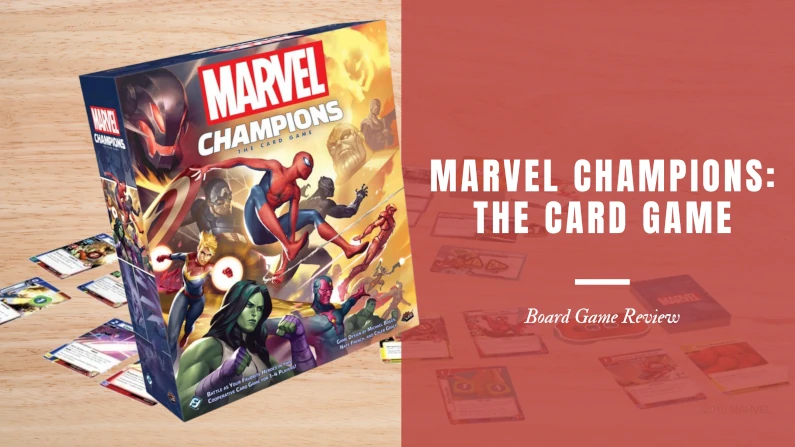 | Players | Age | Playtime (m) | Overall |
| --- | --- | --- | --- |
| 1-4 | 14+ | 45-90 | 8.2 |
Table of Contents
What is Marvel Champions: The Card Game About?
Marvel Champions The Card Game pits you, as a superhero, against various villains. Each Villain and Hero has their own health. As discussed earlier this is a living card game and is a deck building game.
This is a completely cooperative game so all players will be working together to defeat the villain. This is slightly different from the MCU as I know it where superheroes regularly fall out with each other.
How Do I Play Marvel Champions: The Card Game?
Your deck is built at the beginning of the game where you can select your superhero, their aspect, and neutral cards.
Each superhero comes with a double sided identity card which will have the superhero on one side and their secret alter ego on the other e.g. Spiderman on one side and Peter Parker on the other.
Each deck can contain a minimum of 40 cards or a maximum of 50. The decks come pre-built so you don't need to build the decks and can just jump in and start your fight.
However, once you have the hang of the game you will want to build your own decks. Each deck is made up of 15 superhero specific cards. In these decks you will find allies that will help to attack the villain. Or you may find a useful piece of kit to use or be able to heal yourself.
Along with the superhero cards you can then add aspect cards and neutral cards to this deck. Your choice of aspects to add to the deck are:
Justice
Aggression
Protection
Leadership
Depending on how you build your deck will dramatically change the way the game will play out. Each superhero also comes with a nemesis deck that is played separately. During play these cards will be activated. This randomly throws a spanner into the works that you will now have to deal with.
You will also choose a villain to fight. There are three levels of difficulty you can choose when building your villain. 1, 2, or 3. This is represented by 3 cards. If you want level 1 then you only put the first card in the deck. If you want level 3 then put all the cards in the deck. This deck is then placed on its own.
There is also an encounter deck for each villain. The superhero comes with an obligation card that must be placed into this encounter deck along with an optional side scenario such as a Bomb Scare.
Typically, the villain has a scheme and side scheme for you to thwart, whilst trying to also defeat them and their minions. This provides a balance between fighting the villain and stopping their scheme. If you focus on reducing the villain then potentially their scheme will succeed and you will lose.
Each superhero and the villain have a health dial with varying health that will diminish as the game progresses.
The game is fairly simple to pick up with two phases of play:
Player phase
Villain phase
During the player phase each player will take their turn. Each player will take a turn and can perform as many actions as they like as long as they have the cards and resources to pay for them. The actions they can choose are:
Change form – only available once per turn
Play and ally, upgrade or support card
Use their alter-ego's basic recovery or if in hero mode they can attack or thwart
Use and ally card to attack or thwart
Trigger and action card ability
Ask another player to trigger an action
The beauty of this game is that you can create some incredible turns as lay cards down and pick up more to lay them down. Whilst asking another playing to trigger an action that will allow you to do even more. 
Once each player has finished their turn it is the villains turn to retaliate. 
Place threat on main scheme
Villain and eligible minions activate
Each player gets an encounter card
Encounter cards revealed and resolved in order
Player token moves to next player
If you placed level 1 and 2 cards in your villain deck then you will need to reduce the villain's health down twice in order to win. Rhino's health starts at 14 for level 1. Once you have dropped that down to zero discard the level 1 card and reset the health to the level 2 card which is 15!
You can see how the difficulty can vary. Along with the side missions this can be really challenging. 
You lose if the villain depletes all players' health or they successfully complete their evil scheme.
You can see how this leveling system and variations of the deck makes for fantastic variety within the game and adds massively to the replayability.
How Well is Marvel Champions Made?
There are a lot of components to this game which are all well made. In the core set you get:
199 Player Cards
137 Encounter Cards
7 Reference Cards
30 Status Cards
62 Damage Tokens
16 All-Purpose Counters
32 Threat Tokens
5 Acceleration Tokens
1 First Player Token
4 Player Hit Point Dials
1 Villain Hit Point Dial
If you want to make sure your cards last longer then you can consider sleeving them. If you are not sure about why then check out my article Do You Sleeve Your Board Games?
The artwork for this game is top notch. Obviously in the comic book style but still excellent. Each card has the feel of a comic book panel. As you play you will almost feel like the comic book is building up before you as the story unravels.
You get 5 heroes and 3 villains in the core set as follows.
Heroes
Iron Man
Black Panther
Spider-Man
Captain Marvel
She-Hulk
Villains
Each hero is very different from the next and that goes for the villains too.
The instructions are clear and well made. They are set out in a comic book style to follow the theme which is nice.
On the whole this is a very nicely put together game.
Is Marvel Champions a Good Solo Game?
Yes, Marvel Champions: The Card Game is an excellent solo game. In fact it is in my top 5 best solo games. You can read my article 20 Best Solo Board Games 2022 to find out more.
Unlike other solo games where you need to add something like an Automa or change the rules. Marvel Champions: The Card Game is absolutely the same when playing solo as it is when playing multiplayer.
This game is best played with 1 or 2 players and you will have as much fun solo as you will with a friend.
Is Marvel Champions a Deck Building Game?
Yes, it is a deck building game. In Marvel Champions: The Card Game you build the villain and heroes decks at the beginning. The decks will then stay the same as you play through the game. 
As you play the game you will play cards and draw more cards that will build your hand. When building the decks you can create variety in play and also difficulty. This really adds to the replayability of this game.
Is Marvel Champions: The Card Game Worth Buying?
This game is quite fast paced as 1 or 2 players. With 4 players the number of hit points that a villain has increases to balance out the game. Which in effect extends the game considerably. More players really changes the pace.
In which case I think this is a much better game for 1 to 2 players. You will find that is the sweet spot and you'll have the most fun with this number.
Once you get into building your own decks with this game then it really opens up for you. The different combinations of villain, side scenario and superhero builds you can play makes this game have endless possibilities. 
One of the downsides to this game is that it does not have the storyline like you get in games such as Arkham Horror the Card Game. If you want a campaign or good story then perhaps look at Arkham. 
Saying that Marvel Champions: The Card Game is fast paced action to defeat the villain. This is a great game to sit down and play one sitting. You'll have a bunch of fun and if you like Marvel then this is a no brainer.
| | Players | Age | Playtime (m) | Rating |
| --- | --- | --- | --- | --- |
| Marvel Champions: The Card Game | 1-4 | 14+ | 45-90 | 8.2 |
| Buy at Amazon | | | | |