5 Best Sherlock Holmes Board Games to Satisfy your Inner Detective
We are an affiliate. We really hope you enjoy the products we recommend! When you click on links we may receive a commission or other compensation at no cost to you. Thank you for coming to our site and for any links you use. We really appreciate it.
If you like a good detective story and love puzzle solving then this article will introduce you to the 5 Best Sherlock Holmes board games to satisfy your inner detective.
Each of these games are based around the legendary Sherlock Holmes. Since Sir Arthur Conan-Doyle wrote his first Sherlock story it has captivated readers. If you want to read more about Sherlock's history then take a look at this great website.
Here is the list of the 5 Best Sherlock Holmes board games:
Title
Recommended
Sherlock Holmes Consulting Detective: The Thames Murders & Other Cases
Best Competitive
Watson & Holmes
Holmes: Sherlock & Mycroft
Recommended
Title
Sherlock Holmes Consulting Detective: The Thames Murders & Other Cases
Best Competitive
Title
Holmes: Sherlock & Mycroft
There are some great games here that will get your deductive juices flowing. From 8 player collaborative games to 2 player head to heads. There will be something prefect for you.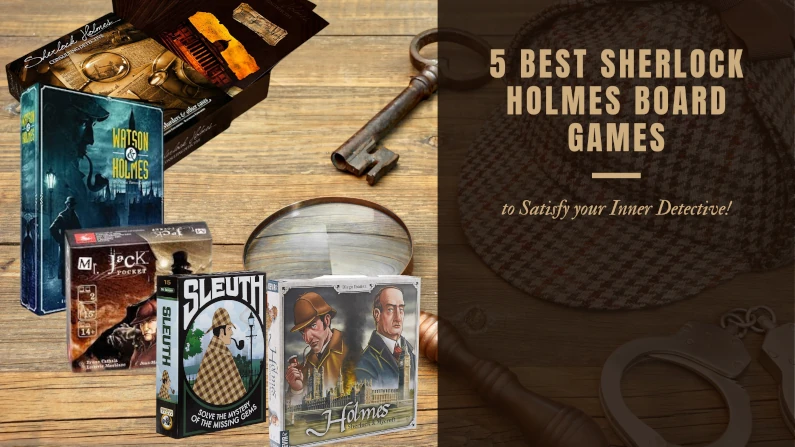 Table of Contents
Sherlock Holmes Consulting Detective
At the top of the list is the awesome Sherlock Holmes Consulting Detective. This is a great deductive game and I have also included it in my article 5 Fun Board Games Like Clue You'll Love To Play.
This game puts you in the shoes of the Baker Street Irregulars. You wander around the Victorian streets of London tracking down leads, following up with your informants and . Can you solve the mystery?
Sherlock Holmes Consulting Detective is a series, each with 10 mysteries for you to solve. With each release you get a map of London, London Directory, Newspapers and the all important case books.
The London Directory is exactly that and is where you need to look when you want to speak with someone. The directory will show you their location and then all you need to do is visit that location on the map.
Newspapers in this game are awesome and have been well thought out. Each newspaper relates to a date during one of the mysteries. Each edition has key clues, not only for your current mystery but also for others. So make sure you read the entire thing and refer back to it during the following mysteries too.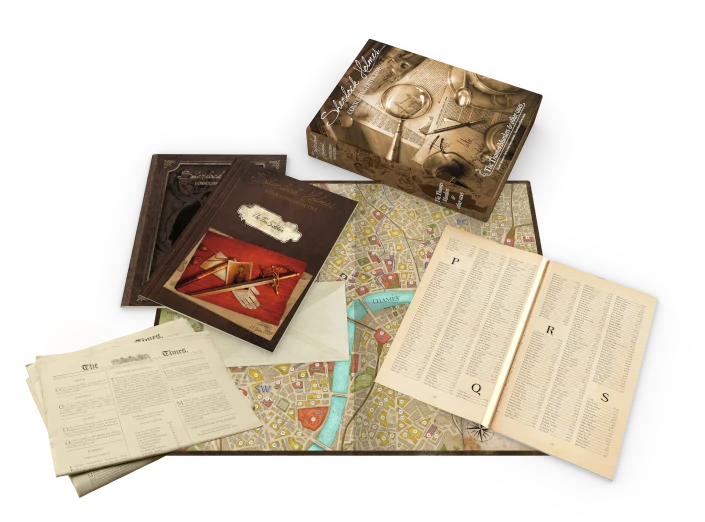 With each of the 10 mysteries comes a case book. These will add the context of the mystery and will lead you through the mystery. They start with an introduction and then provide leads and solutions.  
This game is collaborative and can be played solo or up to 6 players. It does work nicely with 2 but frankly this is no easy game. So the more help you can get the better.
Choose a Lead Investigator to start who will first read out the introduction from the case book. The Lead Investigator can then choose to follow a lead. If the lead is available then they read that out from the section in the case book. Once the information is digested by all the Lead Investigator is passed to another player who can then follow up on another lead.
It is a good idea to discuss everything as you go and is what makes this game very collaborative. During a player's turn they can reread leads that have already been discovered, newspapers and the local directory as much as they want.
Once you have enough clues and believe you have solved the mystery you can move on to the end game. You are presented with a series of questions that you must answer before proceeding. These answers will be the solution as you see it.
Once completed you all head over to the solutions section where someone reads out Holmes' solution. Opening the envelope to the mystery you will find out how you scored. If you even came close to Holmes then you have done well.
Expansions
These aren't really expansions as such but more mysteries for you to solve. The game designers have listened to feedback and have made improvements with every release. So the culmination of the series is Sherlock Holmes Consulting Detective: The Baker Street Irregulars.
The full list of games including the original are here:
Sherlock Holmes Consulting Detective: The Thames Murders
Sherlock Holmes Consulting Detective: Carlton House & Queen's Park
Sherlock Holmes Consulting Detective: Jack the Ripper
Sherlock Holmes Consulting Detective: The Baker Street Irregulars
Summary
Sherlock Holmes Consulting Detective is a fantastic series of games that will test your brain power and put you in the shoes of the Baker Street Irregulars. The cases are very well written and will draw you into Victorian London along with the dialogue with the characters you'll come across. Will you be able to keep up with Sherlock or will the mystery elude you?
Each case will take you between 60 and 120 minutes to solve. So whilst there are only 10 cases these will keep you engrossed for many an evening.
If you really want a deduction game then there is none better than this.
Watson & Holmes
The number 2 best Sherlock Holmes Board game is Watson & Holmes. Which is interesting as this is very much like Sherlock Holmes Consulting Detective whilst at the same time very different! Let's take a look at why.
Where Sherlock Holmes Consulting Detective is collaborative the biggest difference with Watson & Holmes is that it is competitive.
You have the same tasks of tracking down leads and trying to uncover the solution to the mystery. This time you are competing against the other players to do this.
Watson & Holmes contains 12 case files for you to solve that will each last about an hour. You can play with 2-7 players, however, more is better when players are concerned. 4-5 is probably the best number of players and up to 7 should be fine.
Each player is dealt a character card that will give them a special power or they can turn in for more carriage tokens. We'll come onto why having more carriage tokens is important shortly.
The game starts with an introduction to the mystery. There will be location cards laid out face down on the table in a grid. Each of these locations could provide essential clues to solving the mystery.
Each player can choose to go to a location but only one player can be at a location at any one time. The way this can be resolved is through bidding using Carriage tokens. The player bidding the most carriage tokens is allowed to stay and view the evidence on the underside of the location card. Some location cards will be worthless and some providing revealing clues.
However, each player only has 10 Carriage tokens so there is limited supply, use them wisely. You may choose to turn in your character card and gain 3 Carriage tokens but there are other ways of doing this which we will come onto later.
Along with Carriage tokens players get 1 Police token. If you manage to land on a location that you think has key information that solves the case. Then you can place a Police token on it to stop any other player from going to that location.
The only way another player can then go to that location is by obtaining a Call Off Token or a Lockpick Token. The Call Off token will remove the Police token from the location so other players may then go there after you leave. The Lock Pick allows you to go to that location, see the evidence, and then leave, leaving the Police token there to stop other players.
You can gain more Call Off and Lock Pick cards from locations marked with the respective icon. You can also choose to gain more carriages by going to the Carriage station or the location with the Carriage icon on it.
This makes game play really fun with constant interactions and battles to get to locations. You'll need a pen and paper to make notes about the clues you find. The likely thing is that several players will arrive at a conclusion roughly the same time.
To make an accusation and answer the three questions then you have to go to 221B Baker Street. As per the rest of the game you must bid to go there and so it is wise to use your Carriages conservatively so you can outbid a fellow player at the end.
The person that wins the bid gets to write down their answers to the 3 questions asked at the start of the case. They then turn over the 221B Baker Street card and check it against their answers. If they have got one question wrong they are out. At this point that player will state the number they got right. Either 1, 2 or 3 questions. Not what but only the number.
When play continues the remaining players can call on Sherlock. This means that the person(s) who are out can be called upon to help by either:
Letting the requesting player read all their answers.
The requesting player can write an answer on a piece of paper and give it to the player who is out. That player must tell them if the question is right or wrong.
Expansions
There is an expansion due for this game but at time of writing it has not been released. The expansion will offer more great mysteries for you to solve.
Summary
This is a fantastically competitive game that will keep you guessing and competing against your rivals till the end. When two players are out they will want to immediately find a quiet room somewhere else and discuss their findings and where they went wrong.
Controlling your Carriage, Call Off, Police, and Lock Picks all keep this game engaging and fun.
If collaborative is not for you and you are more of a team of 1 kind of player then Watson & Holmes is the preferable choice.
Mr Jack Pocket
The next Sherlock Holmes game is Mr Jack Pocket. This is the first game that is for two players in a head to head. The game is based on the enormously successful Mr Jack. One player will take on the Mr Jack character. The other player will play the investigator and have characters Holmes, Watson, and Sherlock's dog.
This is a beautifully simple game to play and at only 15 minutes is nice and quick. The first thing to do is to shuffle the alibi deck. This has one character on each tile. Once shuffled the Mr Jack player will select a card randomly from the deck. This card will be Mr Jack and whom Sherlock and his companions must find.
Next you build the board using the street tiles. Again they are shuffled and laid out in a 3 x 3 grid with the characters facing upwards. Each tile has alleyways on it that may link with each other. On the back are the same alleyways without the character on them.
You may need to rotate any tiles with an alleyway that Sherlock, Watson or the dog can look down. The detectives must be looking at walls to start.
Three tokens are placed around the outside of the 3 x 3 grid for Sherlock, Watson and the dog. These can move clockwise around the edge. And that is the setup completed. It is remarkably quick to do.
Sherlocks job is to eliminate each of the suspects until he can identify Mr Jack. He does this by moving the investigators around the board clockwise so they can see along an alleyway. 
At the end of the turn Mr Jack will reveal if he is visible. If he is then this means that either Sherlock, Watson or the dog are looking down an alleyway and can see Mr Jack.
In this way the investigator can deduce who Mr Jack may be and eliminate any of the characters that can or can't be seen at that point. Depending on if Mr Jack can be seen or not.
The game is played over 8 rounds with the investigator and Mr Jack taking alternate turns to start the round. Each round each player will take 2 actions.
To determine actions that can be taken the investigator will take four action chips and throw them to determine a random list of 4 actions. Who takes the actions is determined as follows:
Sherlock takes one action chip.
Mr Jack takes two action chips.
Sherlock takes the final action chip.
Here is a list of possible actions:
Rotate a tile (two actions available)
Move Sherlock
Move Watson
Move the Dog
Wildcard move either Sherlock, Watson or the Dog
Swap any two tiles
Pick up an alibi tile
At the end of the round the investigator will ask Mr Jack if he can be seen. If one of the investigators can see Mr Jack along an alleyway Mr Jack must say yes. That round is then won by the Investigator and they get an hourglass chip. If Mr Jack can't be seen then he has won the round and gains the hourglass chip.
If Mr Jack has the pick up alibi action then he still picks up the alibi which conceals this from the investigator. Mr Jack will also be awarded the number of hourglasses shown on the alibi tile.
Once the actions are taken and Mr Jack has revealed if he can be seen the chips are turned over and the above four steps are repeated. Once each of the chips has been used the investigator will re-shake them and throw for the next round.
This is a tussle between Sherlock and Mr Jack to reveal or conceal the culprit. The investigator can win by identifying Mr Jack before the end of 8 rounds. 
Mr Jack can win by either of the following:
The 8 rounds are completed without the investigator identifying him.
Mr Jack wins 6 rounds.
Expansions
The expansions for Mr Jack are really more of the same. The fact that they come with new characters and more significantly new street tiles will freshen things for you. With different street tiles to change how that part of the game plays out.
There are currently 2 expansions for Mr Jack Pocket.
Mr Jack Pocket: Goodies
Mr Jack Pocket Extensions
Mr Jack Pocket: Goodies is a mini expansion and brings a new character card with its street tile and alibi card. This can then be swapped with one of the other characters to freshen up the game. Not earth shatteringly different but still it is something.
Mr Jack Pocket Extenions is a little more substantial as an expansion. It provides three new characters along with their respective alibi cards and tiles. In this version you can play all 3 new characters with the existing characters.
This extends the board from 9 tiles to 12. Which makes the game a little more challenging. There is also a new detective in Mycroft Holmes too.
Looking around it appears that these are quite difficult to come by. Probably the best thing to do would be to see if you can exchange for them on BoardGameGeek.com.
Summary
This is an amazing game that, as the Pocket in the title suggests, is very travel friendly. Great for taking round a friend's house or playing whilst on the move.
It is extremely easy to pick up and play and takes no time to set up. If you are looking for a good 1 on 1 deductive game to play then this definitely worth a try.
Sleuth
Number four on my list is Sleuth. Whilst this is an older style game that was released in 1971 it still holds up pretty well today. It is similar to Clue in that you must use your deductive powers to find the missing gem. You do this by asking the other players questions about their hand.
There is a deck of 36 gem cards that are shuffled and then one random card is removed making sure no one knows which was removed.
This is the stolen gem. Each player is then dealt the rest of the cards ensuring that everyone has even numbers. Any cards left over are turned face up and placed on the table for all to see.
Each player has a pad with the Diamonds, Opals and Pearls across the top and Red, Yellow, Green, and Blue rows. The players can cross off all the cards they have in their hand and the cards that are face up on the table.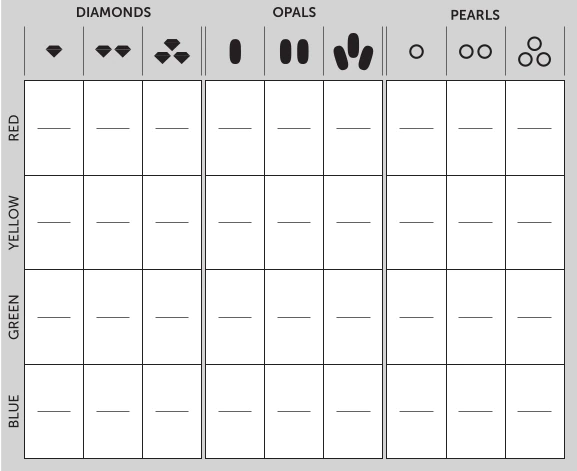 It is now a matter of asking questions of the other players and deducing which gem card is missing. You can't ask any question but are restricted to the questions. 
There is a second deck that each player is now dealt four cards from. These indicate the questions you can ask one other player and are placed face up in front of the player.
The first player will choose one of the four cards face up in front of them and ask one of the opponents the question. If the opponent has any of the cards that correctly represent the question then they must show it to the player. The player can then mark these off on the information tablet and the next player repeats the process.
At any time whether it is a player's turn or not they may make an accusation. They will guess which gem, color and what type e.g. solitaire, double or cluster. That player will then look at the card that was taken from the original deck. If they are correct then they win. If they are wrong then they are out of the game. They do have to continue to respond to questions from the other players though.
Every player has a free choice question they can make at any point during the game. However, once they have made that choice they must immediately make an accusation.
Summary
This is a solid game that is relatively small, so good for travel. It takes the deductive elements of Clue without all the moving around. You don't have to get to certain rooms in order to make guesses.
The game is for 3-7 players but you will find that the more players that play the harder it gets. Also the more players the longer the games take. 3 is quite easy  and short whilst 6-7 is very difficult and long. The sweet spot is 4-5 players. So you should bear that in mind if you are planning to play with more players.
If you like Clue but are more interested in the deductive side then this game will be perfect for you.  
Holmes: Sherlock & Mycroft
The final game in the 5 Best Sherlock Holmes Board Games is another 2 player game. This time it brings together the two greatest minds of the time: Sherlock and his brother Mycroft.
An explosion has gone off in the houses of parliament and a young man (Michael Chapman), who was linked to anarchist groups, has been arrested.
He pleads his innocence but Mycroft believes he has his man… That is until Sherlock is hired by the parents to prove his innocence. Now the brothers will battle to prove their case.
You have 7 days in which to gain more points than your opponent and prove Michaels innocence or guilt. Good luck.
The game board has 12 spaces on it for the various cards. From top left the first three spaces are for permanent character cards of Doctor Watson, Mrs Hudson, and Inspector Lestrade. Underneath those spaces are the draw pile and two Day 1 spaces. Day 1 starts off with 2 cards. On the right hand side of the board from top left to bottom right are days 2-7.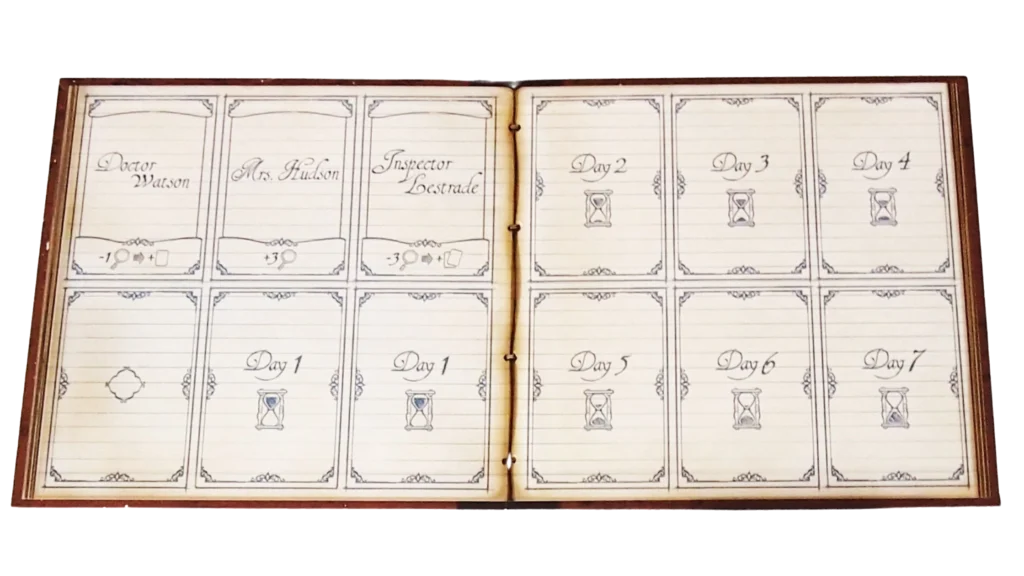 To set up the game you place the respective Dr Watson, Mrs Hudson, and Inspector Lestrade cards on their spaces. These can be visited repeatedly without the characters becoming exhausted.
The character cards are shuffled and then placed on the draw deck spot on the bottom left of the board. Draw the top two cards and place them on the Day 1 spaces. There are 24 investigation tokens in the shape of spy glasses that are placed in a pile where both players can get to them.
Now each player takes 5 investigation tokens and three colored meeples of their choice. The first player can then decide if they are Mycroft or Holmes. A Clue deck of cards are shuffled and placed on the table underneath the board. Four cards are then drawn and placed face up to the side of the deck.
Now each player takes it in turns placing a meeple on who they want to visit. You cannot have two meeples on the same character. However, your opponent can visit the same character too.
Each character can provide you with various actions of which the most common is to pay a number of investigator tokens which will allow you to pick up a number of clues. For example you may use 1 investigation token to pick up 1 clue or 3 investigation tokens to pickup two clues.
Once spent you can pickup the choice of clue cards you want. The objective is to collect the most clue cards. There are 3 number 3 cards, 4 number 4 cards, and 5 number 5 cards and so on up to 9 number 9 cards.
If you manage to collect all the 3 clues for example you will gain 3 points. As your opponent did not get any number 3 clues then you will get a bonus 3 points. If you manage to collect 7 number 9 clue cards and your opponent has 2 cards then you will gain 9 points. However you will need to subtract the number of number 9 clue cards your opponent has i.e. 2. This then gives you a score for that set of 7. 
Another type of character will allow you to collect more Investigation tokens from the pile. Mrs Hudson is one such character, so there is always the opportunity to pickup more.
If both players place a meeple on one of the characters on the Days 1-7 then that character is considered spent. Turn this card over and you will not be able to visit this character during the next round.
The game continues until the last meeple is placed on Day 7. The game ends and the scores are totalled up. The winner is Sherlock or Mycroft, whoever gained the most clue points.
Summary
This is a great two player game that is nice and quick at 20-30 minutes per game. The characters and graphics are nicely done. Once you get the hang of the rules it is a very entertaining game.
The one thing I would say about the game is that the theme is more of a flavoring than embedded into the game. The story that Sherlock and Mycroft are at odds and seeking to solve the mystery fits with Sir Arthur Conan Doyles characters. However, I never feel like I am working to solve the mystery. My goal is to get more cards of the same value than my opponent.
With that said this is still a really great game and hence is number 5 on my list.
Recommendation
So that wraps up the top 5 best Sherlock Holmes board games. You have some fantastic deductive games like Sherlock Holmes Consulting Detective and Watson & Holmes. Mr Jack Pocket is a great game that is fast to set up and travels well. Sleuth is just a great game that has lasted the test of time. Finally, Holmes: Sherlock & Mycroft is a solid easy game to play.
My recommendation has to be Sherlock Holmes Consulting Detective as this will provide hours of head scratching and draws you into Victorian England with each mystery you try and solve. If collaborating is not for you then Watson & Holmes would equally be an excellent choice.
Sherlock Holmes Consulting Detective: The Thames Murders and Other Cases
– MYSTERY BOARD GAME: Solve mysterious cases by interviewing suspects, searching newspapers and walking the streets for clues. Once you have completed your investigation, compare your detective skills to the master sleuth himself, Sherlock Holmes
– COOPERATIVE GAME: Players work together as a team of detectives to gather clues and solve mysteries. The dynamics of this game make it a perfect choice for game night with friends and family. Whether you're playing alone or with up to eight players, you'll need everyone's wits to work together and solve the case
– TEN EPIC CASES TO SOLVE: Solve 10 mysteries in Victorian London – The Mummy's Curse, The Munitions Magnate, The Pilfered Paintings, The Thames Murders, and others! Unravel the string of intrigues, answer a series of questions and solve some of the strangest cases of the most famous detective ever