5 Best Family Board Game Night Ideas
We are an affiliate. We really hope you enjoy the products we recommend! When you click on links we may receive a commission or other compensation at no cost to you. Thank you for coming to our site and for any links you use. We really appreciate it.
Whether you have family board games on a lazy Sunday afternoon, at weekends, whilst on holiday, or a quick pre-bedtime family board game night.
Playing board games can be really rewarding and all round good fun.
It is believed that board games help your child learn how to play as a team, win or lose graciously and build up concentration, mental acuity, and patience.
Many games are also educational and can incorporate things like mathematics, reading, spelling, drawing, finance, commerce and strategy whilst building motor skills to boot.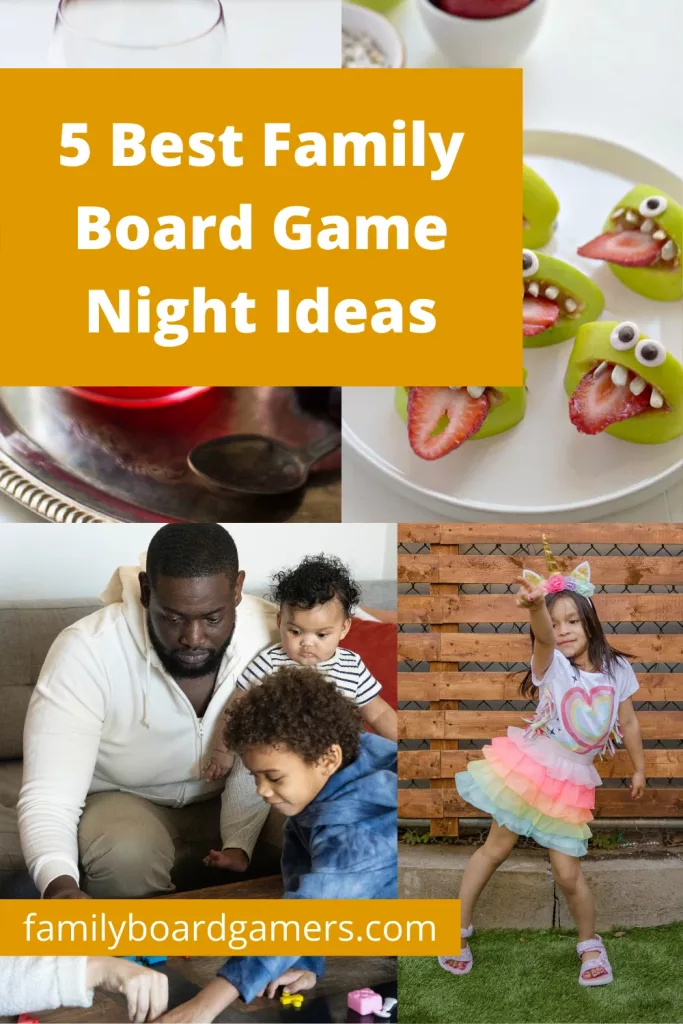 Here are 5 Family Board Game Night Ideas that will increase the fun. Including keeping the kids engaged, some yummy food and drink ideas or getting into the spirit with a themed night. Jump in and let's take family board gaming to the next level.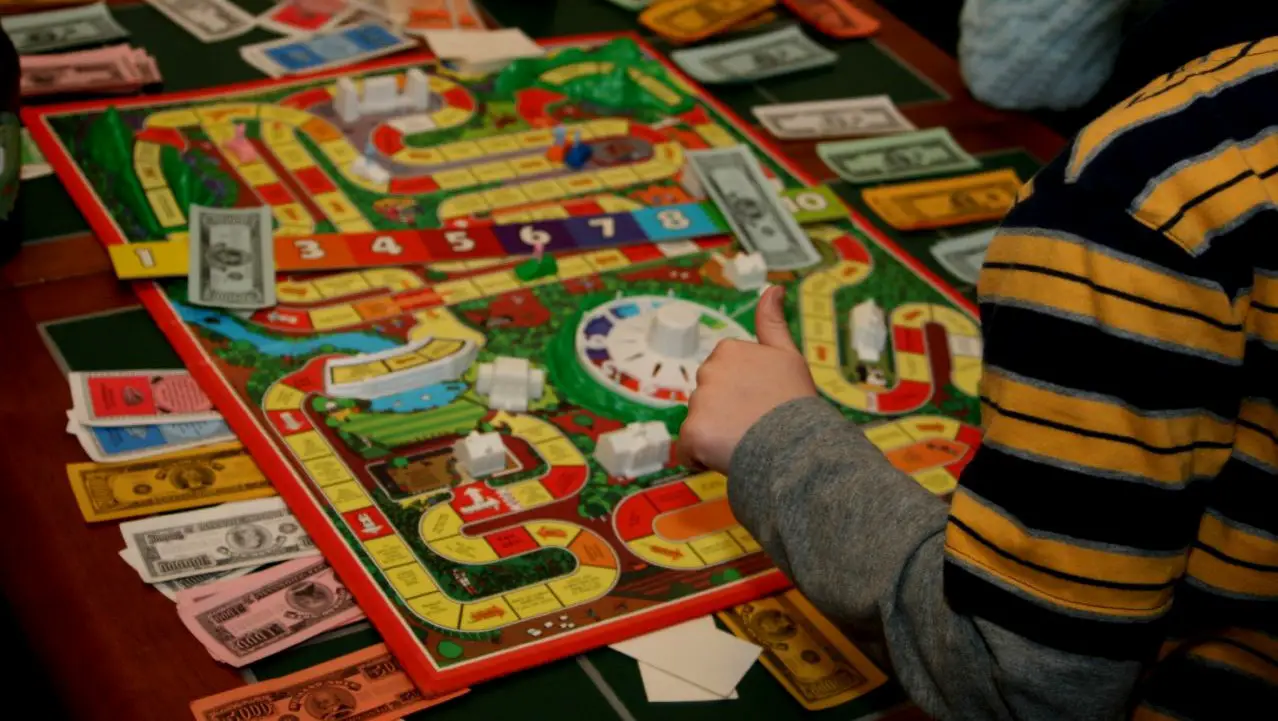 Table of Contents
1. Keeping them engaged
It is pretty obvious that at 2-5 years your child is still developing and won't necessarily be able to play a whole board game. There are still plenty of board games out there designed to keep them happy and allow your child's abilities to develop as they grow.
How long can your child focus on board games?
There is a lot of research that considers the average attention span lasts between 2-5 minutes per year of age. Lingo Bus has a good article which discusses how long a child can stay focused and some other things to consider.
You can read the article here: How Long Can Your Child Stay Focused and How Can You Help?
If we take a conservative 2-3 minutes per year, you will see in the table below we get this kind of variation as the child develops.
| Age | Minimum | Maximum |
| --- | --- | --- |
| 2 | 4 | 6 |
| 3 | 6 | 9 |
| 4 | 8 | 12 |
| 5 | 10 | 15 |
| 6 | 12 | 18 |
| 7 | 14 | 21 |
| 8 | 16 | 24 |
| 9 | 18 | 27 |
| 10 | 20 | 30 |
| 11 | 22 | 33 |
| 12 | 24 | 36 |
Table: Child's minimum/maximum attention span
Let's look at some ideas on how to keep everyone engaged and in the board game.
Be pragmatic
With my preschool daughter we take a very pragmatic approach. If we don't make it through the whole game it was the playing and fun that counted. We also know that this will build in time and continuing to make it fun for her will continue to exercise her ability to focus and build patience.
Play in teams
You may want to team up to allow for the preschoolers with less ability to focus the opportunity to feel involved but still dip in and out of the game and still keep the game flowing better.
Especially if you have an older 5+ playing too, playing in teams will enable you to play more challenging games whilst still engaging and including the younger one too.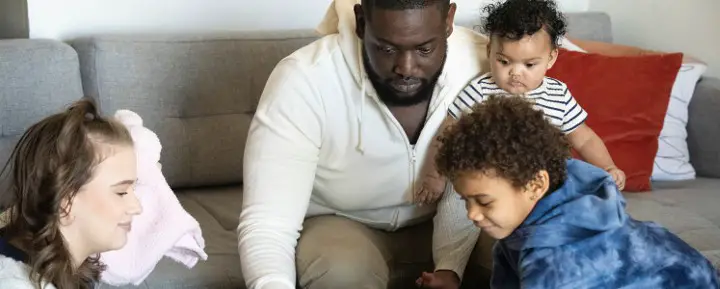 Add activities
Another thing we find quite fun is to add some physical movement to the board game. This helps break the need for concentration throughout the whole game. Perhaps you can make a family rule that if something happens in the game you have to do something physical.
If, for example, you are playing Chutes and Ladders, every time someone goes down a chute you all have to stand up, turn around and touch the ground three times. The idea is to have a little break in concentration, stretch and then get back into the game.
I read a great idea in this article, 7 Tips to Encourage Kids to Play Board Games, where you can put cards or items from the board game around the room. So when the child needs that piece then they have to go get it. Making the board game into a board game/obstacle course.
2. Food and Drink
It is so easy on Family board games night to get out the basic potato chips or vegetable batons and dips along with soda. Although I hope I can show here that you can take the board game to a whole new level without having lots of preparation. Keeping it healthy (and not so healthy), whilst keeping the games themselves relatively clean.
Here are my favourites from PureWow.com's 73 Finger Foods for Kids That Make Dinner (or Lunch) a Breeze.
Healthy
1. Silly Apple Bites
I just love these goofy bites that are sure to delight. Tasty and healthy snacks that will add to your family board games.
2. Veggie Sushi Cups
Simple and healthy finger food that should remain wrapped and fairly clean to handle. Delicious vegatable sushi wrapped in cucumber to make a nice tidy nibble.
3. Crispy Baked Cauliflower 'Wings'
Cauliflower Florets with a yummy coating baked in the oven.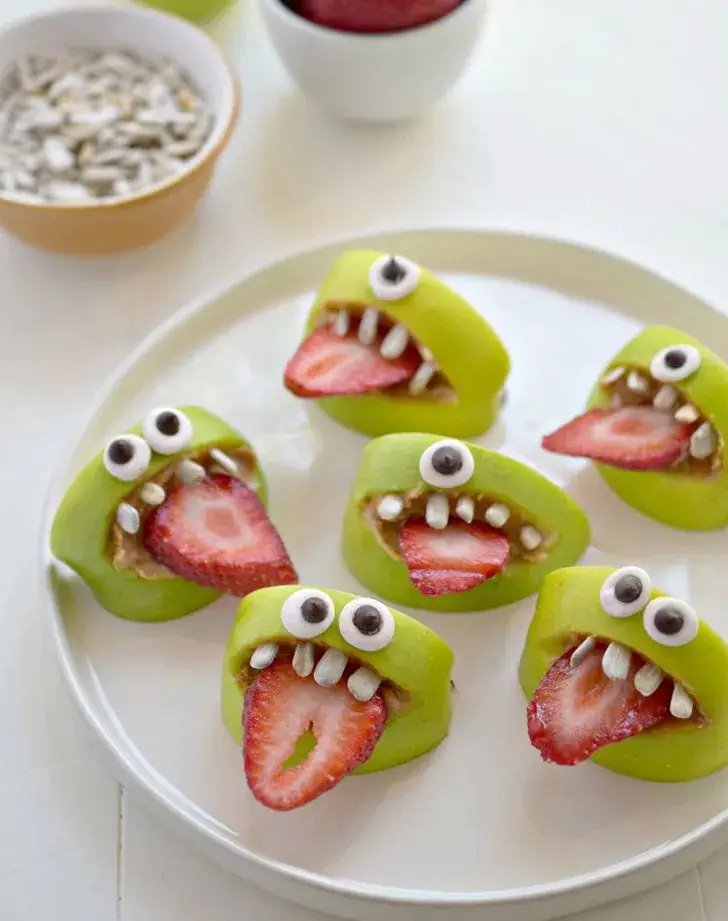 Yummy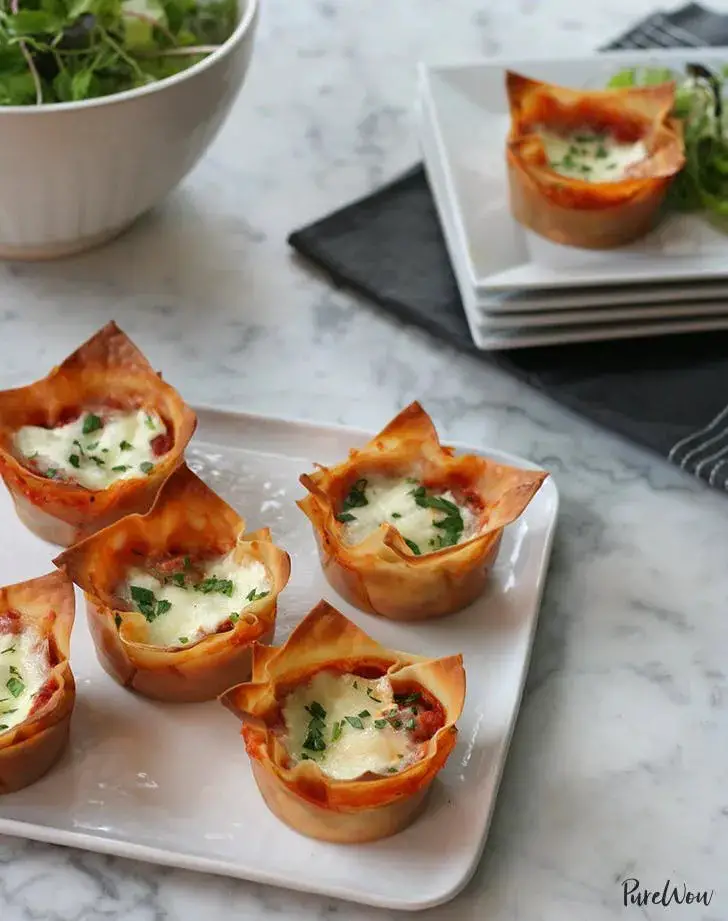 1. Baked Mac-and-Cheese Bites
We all love Mac and Cheese and these tasty bite size morsels should fill up the snack-o-meter nicely.
They may be a little more sticky for the fingers but taste delicious.
2. Homemade Pepperoni Pizza Rolls
Simple Pepperoni Pizza you can't go wrong with. Nicely sized for snacking as you play.
3. Mini Lasagnas
These amazing little lasagne packages should come out pretty clean for gaming nights and would go nice with an italian themed board game night.
Learn Italian as a family with games like KLOO Learn to Speak Italian Games or trivia games like 100 PICS Italy Quiz Game.
Meaty
1. Sausage-and-Egg Breakfast Dumplings
Not the obvious snack for a board game evening but surely tasty enough to make an exception?
2. Beef Empanadas
Great pastry parcels of tasty meat that should keep the board games clean and sticky finger free whilst providing an exquisite mouthful.
3. Pizza Muffins
Another Italian theme options with these Pizza Muffins.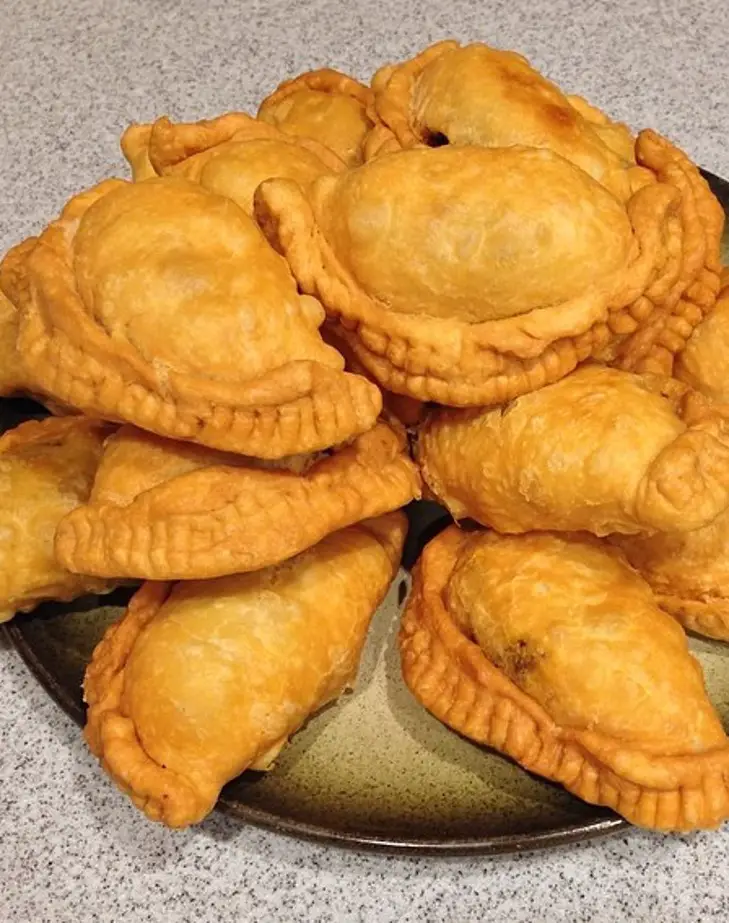 Drinks
I also found some great drinks recipes at the kitchenstories.com post here: 7 Homemade Drinks for Thirsty Kids.
1. Watermelon-grapefruit ice cream floats
Thirst quenching drink with ice cream for those hot summer days to cool you down.
2. Blueberry and apple lemonade
Simple, tasty and only takes 10 minutes to make. A sure winner all round.
3. Chocolate milkshake with peanut butter and banana
Chocolate, peanut butter and banana? What a combination and sure to be consumed quickly.
If your board game does get dirty we have some hints on getting it clean and keeping it clean in this article: 5 Board game care tips to keep your games pristine.
3. Themed family board game nights
You could either be all in on getting into full dress and character or just put on a few items and use your imagination. Having a themed evening and playing games around that theme could be fun.
Whether the theme is Disney Princess and Princes, Unicorns, Cowboys, Doctors and Nurses. The opportunity to vast and limited only by your child's imagination.
This opens up the opportunity for really getting into character for the evening. Here are some ideas for a fun fancy dressed themed board gaming session.
Disney
Walt Disney has a great brand and many board games license their famous characters to add a little variation. Not to mention the games like Villainous.
How about dressing up as a character from Toy Story 4 Home Sprint, from 4 years up there is opportunity to dress up as Woody, Buzz, Bo Peep or Gabby Gaby. For 10 years up you could dress up as your favourite villain and play villainous.
Fantasy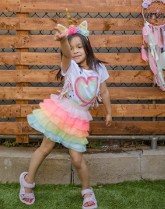 With games like Monopoly Junior: Unicorn Edition the optional rainbow will definitely have to be included. Dressing up as a Unicorn will surely be a delight.
If not Unicorns then perhaps Moana, Aurora or Mulan with the Disney Princess edition? For children of 5 to 8 years this could be a fun evening of dress up and board games.
For 8 years and older perhaps consider Cowboys, Samurai's or Pirates with a game like Dice Throne. I have a great review to look at here: Gunslinger Vs Samurai – Dice Throne: Season Two.
Mystery
Finally, perhaps dressing up as Miss Scarlett, Mrs. Peacock, Col. Mustard, Mr. Green, or Prof. Plum would be another obvious opportunity to dress and play Clue together. This classic board game is suitable for 5 years and up.
Educational
Just like the suggestion in the Food and Drink ideas you could learn Italian the fun way whilst eating Italian food. You could dress up too.
Other ideas
Other ideas for dressing up are Doctors and Nurses with Operation (6+ years) or period costumes for Ticket to Ride – First Journey (6+ years). There is always a beach theme with games such as Sandy Sketches Sand Drawing Guessing Game (8+ years).
4. Prizes
Having a little prize can just make the whole evening a little more fun and worthwhile. Not only that, but with the right prize you could line up some peace and quiet over the next few days. Giving the kids a prize like crayons or a colouring book that will keep them busy.
Here are some prize ideas that will delight the winner and console the others.
Balloons
Children just love balloons and this prize will keep them entertained for hours too. Win-win.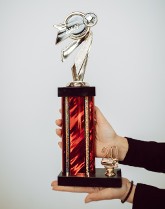 Stickers
You can't go wrong with stickers….other than they will probably end up everywhere but in the sticker book! What more could a victorious child want than to win stickers?
Crayons and/or Colouring book
Great for congratulating your child for their victory and keeping them quiet while you get a well earned cup of coffee!
Trophy
The trophy could be a real trophy or something symbolic like a hat, stick or other object that would symbolise victory.
The winner gets to keep the trophy until the next bout of board game shenanigans.
The runners up can get one each too to make sure they are not left out.

Family Outing
I don't suggest that you go on a family trip after every board game night but perhaps every now and then you can let the winner choose and the runner up select the ice cream?
5. End the night with short games
Have some shorter games planned for the end of your board game night. This will enable you to be more flexible around when you stop and ensure you don't have to pack the kids off to bed with a game half finished.
Here are some ideas for some quick games that are sure to finish off the night nicely.
Preschoolers (3-5)
| Game | Age | Playtime (m) |
| --- | --- | --- |
| Don't Break the Ice Disney Frozen 2 Edition | 3+ | 3-8 |
| Alphabet Bingo! | 4+ | 15 |
| Enchanted Forest | 4+ | 30 |
| Perfection | 4+ | 3-4 |
| Disney Colorbrain | 4+ | 30 |
School Age (5+)
| Game | Age | Playtime (m) |
| --- | --- | --- |
| Outfoxed! | 5+ | 20-30 |
| Train of Thought | 6+ | 20 |
| Hedbanz | 7+ (Jnr 5+) | 20 |
| Exploding Kittens | 7+ | 15 |
| Monopoly Speed | 8+ | 10 |
| Melissa & Doug Suspend Family Game | 8+ | 15 |
| Colorbrain | 12+ | 20 |
Conclusion
So that just about wraps up my family game night ideas post. I hope it has given you loads of ideas and makes your next family game night an absolute blast. With just a little bit of effort you can take your family board game nights to a whole new level.
I hope you found this article helpful. While your here why not check out some of our top board game reviews selected especially for families here. We have some great family games such as Ticket to Ride Europe or the fun and easy to play Takenoko.