Ticket To Ride Europe Board Game Review
We are an affiliate. We really hope you enjoy the products we recommend! When you click on links we may receive a commission or other compensation at no cost to you. Thank you for coming to our site and for any links you use. We really appreciate it.
It's time to get your cases packed and get ready to race across Europe, claiming routes as you go in this epic turn-of-the-century railroad board game from Days of Wonder.
Enjoy this game with family or friends as you race to claim routes across Europe. Sneak through tunnels, jump on ferries or block your opponents longest route.
A relaxing game to pick up and play that will bring you hours of fun. Let's take a look at why this game is likely to become your go to board game.
Designed by Alan R. Moon, Ticket to Ride Europe follows on from the original Ticket to Ride USA. It is for 2-5 players of age 8+ and takes around 30-60 minutes to play.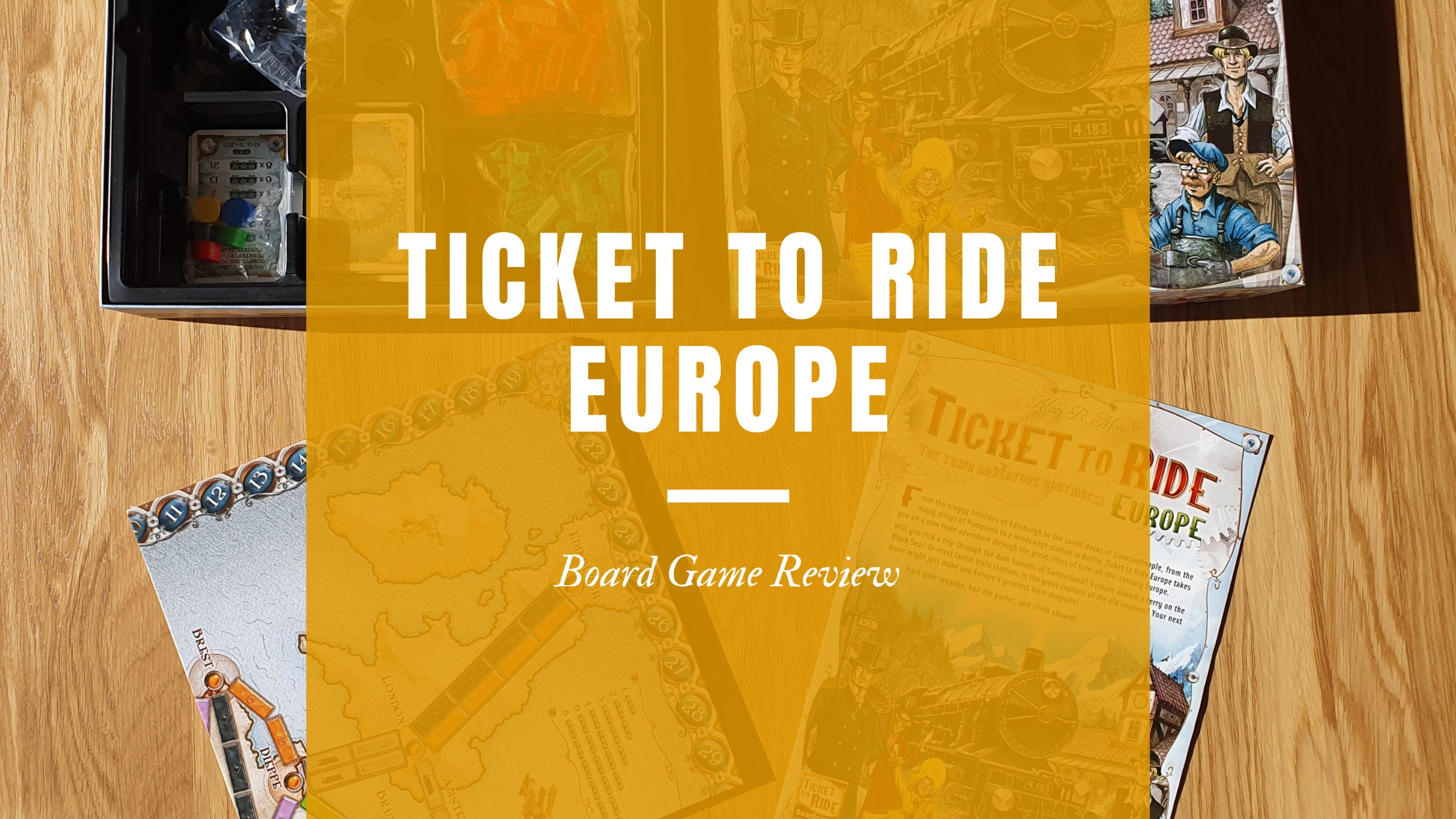 | Players | Age | Playtime (m) | Overall |
| --- | --- | --- | --- |
| 2-5 | 8+ | 30-60 | 7.5 |
Table of Contents
I first played the original Ticket to Ride USA with friends and loved it. Instead of buying the same game I purchased the Europe edition. Now it has become one of our gaming night regulars.
Whilst the gameplay is like the original, there are some significant differences. Adding some fun dynamics and choices to the game. In Ticket to Ride Europe there are tunnels, ferries and stations.
You need to use tunnels and ferries to complete some routes. Whilst stations add a strategic element as they will enable you to use other players routes.
What is Ticket to Ride Europe about?
Ticket to Ride Europe finds you in a frenzied race across Europe. Your goal to reach the highest score by completing the objectives listed below.
Claiming routes between two adjacent cities
Completing a route between two cities on your destination ticket(s)
Completing the longest continuous route
For each station you have in reserve at the end of the game
The game takes roughly 30-60 minutes to play and is easy to understand with excellent instructions. It won't be long before you have set up the game and have started playing your first game.
To play you will be dealt 4 train cards, 1 long route destination card and 3 regular route destination cards.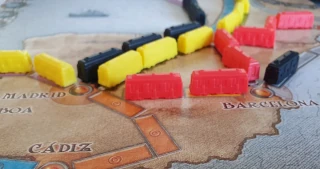 Each player now has to use their hands to claim routes between cities and complete entire routes from the destination ticket cards they hold.
The gameplay continues until one player only has two trains left at which point every player (including the one with only two trains) gets a final turn. Once the round is completed the scores are calculated and the player with the highest score is the winner.
How well is Ticket to Ride Europe made?
Days of Wonder have done an excellent job with the build quality of Ticket to Ride Europe.
The board is sturdy and cards are tactile and the graphics beautifully drawn. The trains and stations are plastic and so are sturdy and well made. A list of the game contents are shown below.
NOTE: Do be careful to buy your game from a respectable supplier as there are many counterfeit sellers. If falling for a counterfeit you will find the product is definitely below par. You can usually notice as the board is clearly of poor quality. I have seen a few bad reviews on Amazon due to this. You can buy it from Days of Wonder at Amazon here.
Box Contents
| Image | QTY | Description |
| --- | --- | --- |
| | 1 | Ticket to Ride Europe Board |
| | 240 | Colored Trains |
| | 15 | Colored Train Stations |
| | 158 | Illustrated Cards |
| | 5 | Wooden Scoring Markers |
| | 1 | Rules Booklet |
This game will last for a long time if looked after, especially if you buy card sleeves to extend the playing cards life.
We use these TitanShield Standard Size Board Game Sleeves and they fit nicely and protect the cards from the obligatory snacks during play. The sleeves have a nice tactile feel to them.
On the whole it is very well made.
How do you win Ticket to Ride Europe?
You win Ticket to Ride Europe by scoring the highest number of points by the time the game ends.
You accumulate a score each time you claim a route between two cities. The more trains the more points.
At the end of the game you take your total points and add the points for each ticket you have completed. Then add 4 points for every station you still have plus 10 points if you got the longest route. The player with the most points at the end wins.
Read the next section for some great strategies to make sure you are victorious.
What is the best strategy for playing Ticket to Ride Europe?
The first question to ask when deciding a strategy is, "How many opponents am I playing against?"
This may not seem obvious but the more opponents playing the more chance of getting blocked when trying to claim tickets.
If there are only 1 or 2 opponents then I always work at hooking up several routes to:
Get the European Express bonus
The Long Route card
Pick up routes and discard those that don't work towards the two above objectives. If you get both then this will give you an immediate bonus of 30 or 31 points on top of the route cards you have completed.
With 3 or 4 opponents it is much harder to do this and so you should use other strategies.
Try and keep a bigger picture perspective too. If you have two routes happening in different parts of the board, how easy would it be to join them up to make one big one?
Train Cards
In the early stages when you are not sure what colors you have to make routes it is best to pick up blind from the deck. This means your opponent has no idea of what is in your hand.
You may also pick up a wild card as well as another card. Whereas, picking up a wild card from the face up cards means your turn is over.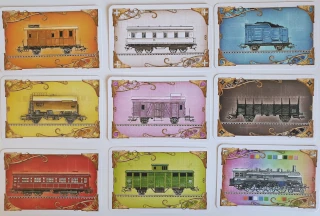 Once you have a better idea of what colors you need and the game has progressed a bit. Feel free to pick up the face up cards if you need them.
Complete tickets
One strategy is to pick up as many tickets as you can. Completing the tickets will give you extra points at the end to add to your final score.
Be aware that having tickets in your hand at the end that are not complete will subtract from your final score. Keep an eye on your opponents and don't pick tickets when someone's train stock is running low.
Also, if you have too few train cards then you may not be able to complete tickets, so beware.
Complete routes
This strategy ignores tickets completely. It aims to gain points by completing routes.
75% of the ticket cards score 5-9, while 25% are 10-13 with most of those being 10. Every time you pick up a new ticket it takes one turn and the chances are you will only get a 5-9 ticket.
Once you have your three tickets, discard 1, keep the long route to complete and one other. Then ignore the tickets completely.
Focus on claiming the longer routes which will get you higher scores. For example, if you claim two 4 train routes that will take 2 turns and get you 14 points. If you manage to claim an 8 car route it will only take 1 turn and bag you a whopping 21 points.
Complete the two tickets you received at the start of the game. Then claim the largest number of long routes you can.
Give both strategies a try and see which one works best for you.
Is Ticket to Ride Europe good?
Ticket to Ride Europe is one of my favorite games and is a regular for our games nights. It has a reasonable amount of strategy and sometimes the tension when trying to claim a tunnel is palpable.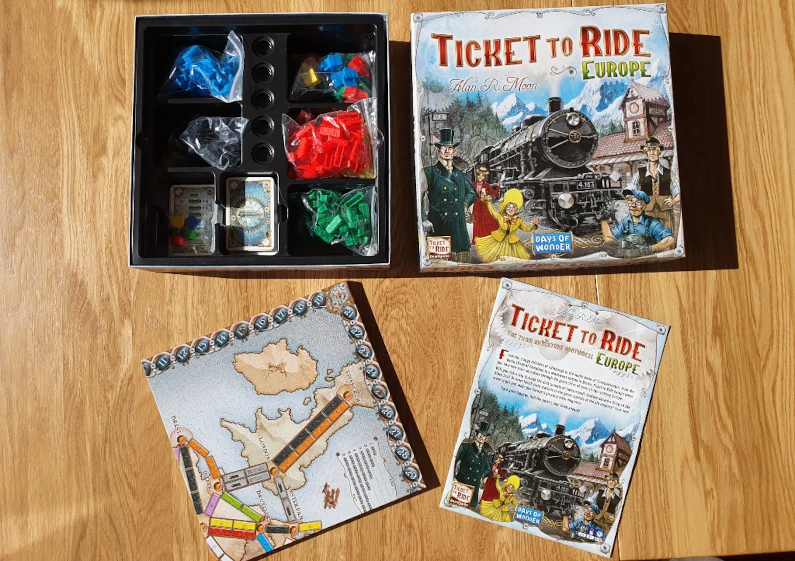 Whilst it seems a little complicated when reading the instructions, my advice would be to play it through. After the first game or two it will all make perfect sense and seem easy to play.
It is a beautifully made game with plenty of fun so I would recommend adding Ticket to Ride Europe to your collection.
If you already own and love Ticket to Ride then the European version will be worth considering but you may want to choose one of the other variations that use the base game. I discuss all the Ticket to Ride expasions in Ticket To Ride vs Catan (Which Game Is Better?). There you will see all the expansions and pick which is best for you.
While you are here come and check out my Takenoko cute cuddly panda board game review here. Or the great two player board game Santorini here.
| | Players | Age | Playtime (m) | Rating |
| --- | --- | --- | --- | --- |
| Ticket to Ride Europe | 2-5 | 8+ | 30-60 | 7.5 |
| Buy at Amazon | | | | |
FAQ
Is Ticket to Ride Europe a stand alone game?
Yes, Ticket to Ride Europe is a standalone game. You can play without any of the other Ticket to Ride games in this series
Is Ticket to Ride Europe different?
Whilst like Ticket to Ride USA, Ticket to Ride Europe builds on this with new mechanics. Ticket to Ride is the simpler game to play.
You will enjoy playing both. Ticket to Ride Europe would be my choice if stranded on a desert island and could only have one version.
How long does it take to play Ticket to Ride Europe?
It takes between 30-60 minutes to play ticket to ride. The more players playing the game the longer the game will take to play.
Is Ticket to Ride Europe better than the original?
They are both great games. Ticket to Ride Europe is my favourite and has additional mechanics that in my opinion makes it better.
If you are choosing between the original and this. Choose Ticket to Ride Europe.
Which Ticket to Ride should I buy First?
This is a tricky question to answer as each of the games have their own merits.
If you have younger children playing then Ticket to Ride USA is the simpler game to learn. This may be a good first version to get. Once they have the hang of the game you could then buy one of the other versions with more complex mechanics.
If you are looking for a little more than the base game then Ticket to Ride Europe would be my choice.
If you will often be playing with two players then Ticket to Ride India would be a good choice. This version comes with the Switzerland board designed for 2-3 players. You will need one of the base games before buying this version. Either Ticket to Ride, or Ticket to Ride Europe.
You can also checkout Ticket To Ride vs Catan which discusses all the Ticket to Ride expansions.